Establised in 2008, Ashutosh Engineering works, is one of the leading manufacturer of instrumentation valves,fitting, flow control valve in Ranip,Ahmedabad(India).
At Ashutosh Engineering, we belive in progress through partnership,contract manufacturing of precision components and assemblies is corrollary of this philosophy. We are manufacturing and job shop activities for CNC turning and machining under the guidence of Mr. Ashish D. Gajjar, the owner of company. We have expertise in machining of various material like S.S 316,S.S 304,Brass,Alloy Stell, Auminium etc.
We manufacture flow control valve, includes needle valve, manifold valve, NRV valves, Ball valve along with pressure guage accessories like guage cook, syphone pipe, Adaptor, Coupling, Tube fittings which are used in oil and gas sector, Refineries petrochemical plants,power plant and pharmacevticals industries.
We followed all require international standards like API, ANSI and DIN International technical standards for design, manufacturing and testing.
Our Goal is satisfied our valued customer with high quality products and best services in same rate.
Machine Shop
At Ashutosh we have advance technology of CNC machine shop and machined all component as per described as in drawings.
Lab
We have testing lab, where we can do hydro test & pneumatic test facilities and it's necessary part of our product, check each and every piece saperetly not rendemly.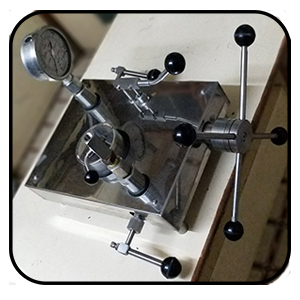 Quality
Material is our quality of product we take raw material from genuine customer checked with material test certificate than we process further operation.
Strength
We have skilled person team in every field. We focus on customer's requirement and his satisfaction, we have highly equipped infrastructure, we upgrade new products with the demand of market.